Article reprinted from The Lakeland Ledger August 20, 1999 by John Barker...

USA CREWS HANDLING OF FIRE WAS MATCHLESS


The most-feared word in a racers vocabulary is FIRE. That word sounded loudly last Saturday Night at USA International Speedway. One driver is in Tampa General Hospitals Burn Center as a result. Was there any way to prevent him from being there? Was USAs fire-rescue crews response proper? The answer to the first question is probably not. The answer to the second is a resounding yes. The fire itself was triggered by your typical racing accident. No driver wants to see another competitors life put in jeopardy. All drivers were able to exit their cars under their own power before the fire-rescue crew was on-scene.

According to promoter Rick Day, Late Model Sportsman driver Richard Anderson of Pinellas Park is still in the Burn Center and will be there for about three weeks. Day went on to say that all of Andersons first and second degree facial burns should heal without scarring and that he would possibly have skin grafts done to his arm, which had third degree burns.

Each Fire is different, and this one on a scale of one to 10, was a 12. Unless youve fought an actual fire, you have no idea of the quick decisions that must be made by firefighters. Richard Brown, an 18-year firefighting veteran and a member of the Tampa Fire Rescue, provided insight following the Saturday night event. Many in attendance were not aware of the real situation.

Once I came around in my support vehicle and saw the fire, I didnt think they had enough to put it out, Brown said. I dont know if there is a textbook way to handle this particular way to handle this particular case, especially when you have four cars on a track and on a hill with fuel running downhill. What a great job these guys (USA Fire-Rescue Crew, TRACK RESCUE) did.

USA Speedway Fire Chief Craig Clarke had two USA fire-rescue crews, eight men and two vehicles, who fought the blaze out of turn two. The blaze was a massive one with at least two fuel cells erupting, and one other losing fuel. It was a shock to hear the explosion that was followed by a fireball running down the track, engulfing race cars in flames. Fortunately, all drivers were out of their race cars. My crew performed in a very professional manner, enabling all crew members to perform their individual tasks to the highest degree of their ability, Clarke said. Every fire presents a different set of circumstances, and this was a unique fire, because it challenged everyones emotions.

Challenging it was. It took fewer than 20 seconds for the crews to respond with equipment in full operation, and only 2 minutes, 54 seconds to extinguish the blazing inferno. Driver Anderson was then cut from his suit. A Water-Jel Fire Blanket which pulls heat away from the body and lessens the pain, was applied. The bottom line, its sad that one driver got injured, but a miracle that nothing worse happened, concluded Brown.

Amen.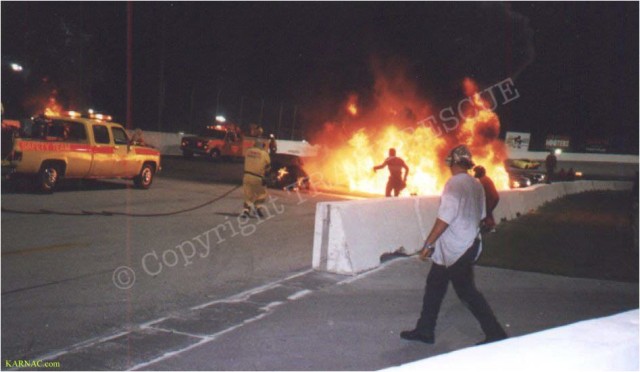 Photo's Of This Event and Many More...